Hello lovelies! A few weeks ago I attended a vegetarian cooking class. Several of you have asked me for recipes from the class. I am happy to oblige.
Here is a recipe for pan-fried tofu with basil:
Stuff you'll need:
2 packages firm tofu, cut into bite-sized cubes (I use locally-made
Phoenix Farm Tofu
, but other brands like Westsoy or Nasoya would work wonderfully as well) 2 medium sized tomatoes cut into 1 inch chunks 1 small onion, cut into 3/4 inch pieces Handful of Thai basil, stems removed (I love basil, so I used the whole bunch that I picked up at the farmer's market) 4 cloves garlic, minced 4 TBSP canola oil 2 Tbsp Bragg's liquid Aminos (likely found near the soy-sauce or health food section at your local grocer) 1 lime, juiced 1 TBSP vegetarian stir fry sauce (or other fish sauce substitute) touch of agave salt & pepper to taste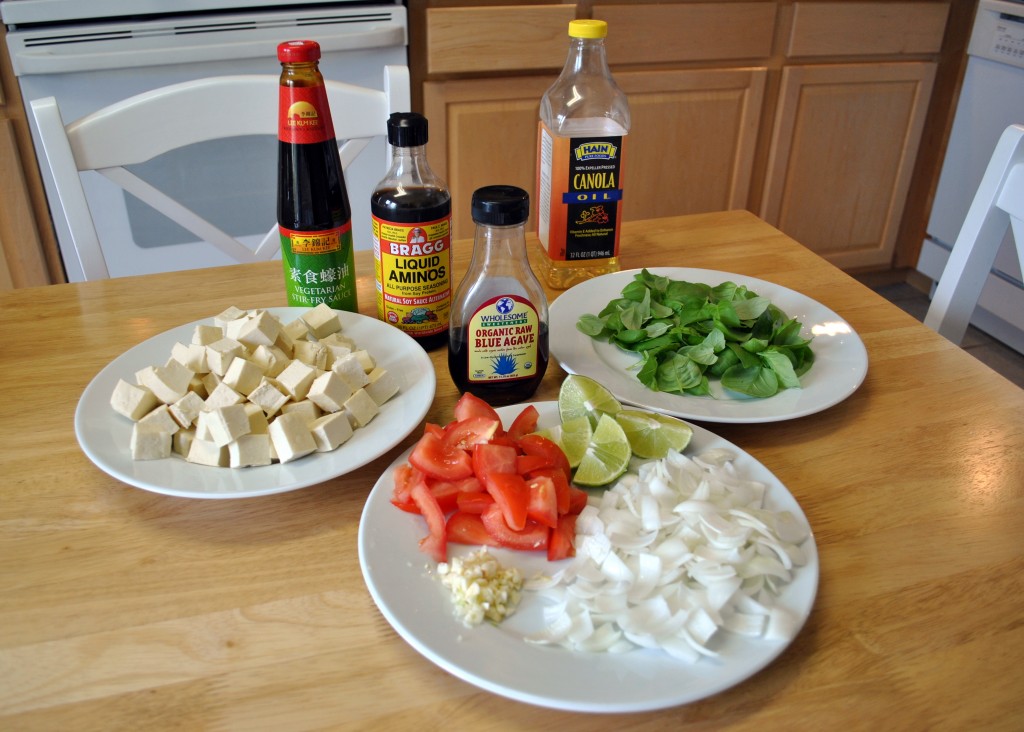 One of the most important things about cooking tofu is to dry it first before pan frying. I did this by simply sandwiching the tofu between a towel for a few hours and allowing gravity to drain the liquid from the tofu onto the towel.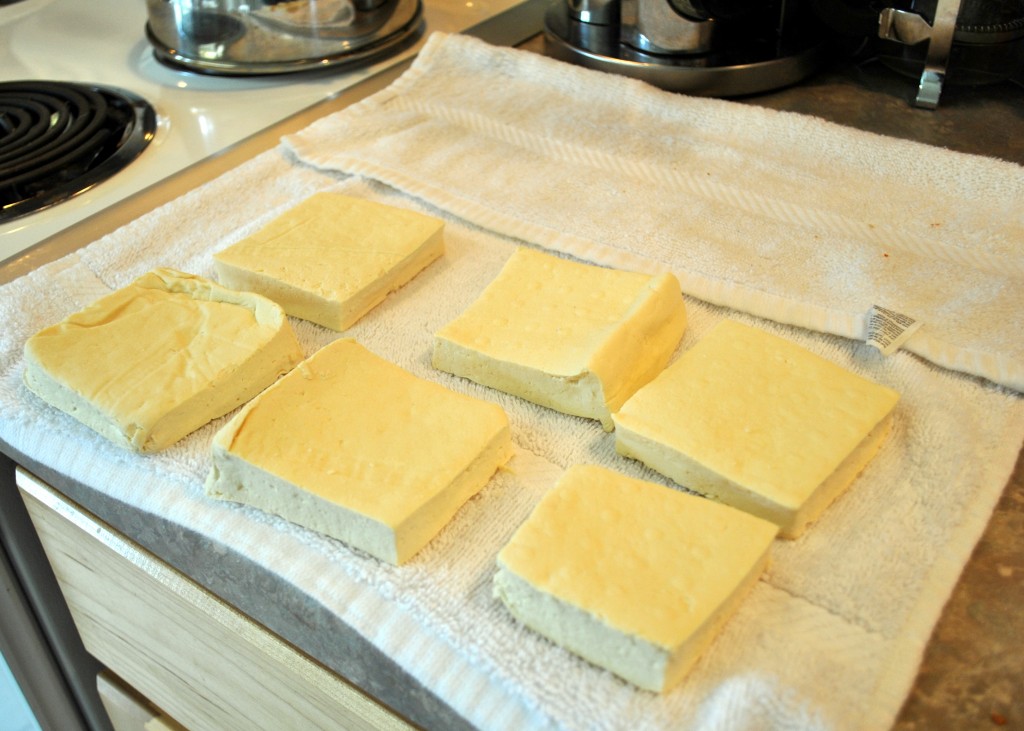 After the tofu is rid of excess water:
1) Preheat 1 TBSP canola oil in a non-stick skillet, fry the tofu cubes on medium high heat until browned on all sides. Add 1-2 tsp Bragg's Liquid Aminos and swirl the skillet so that the tofu is evenly coated. Remove tofu from the skillet and set aside.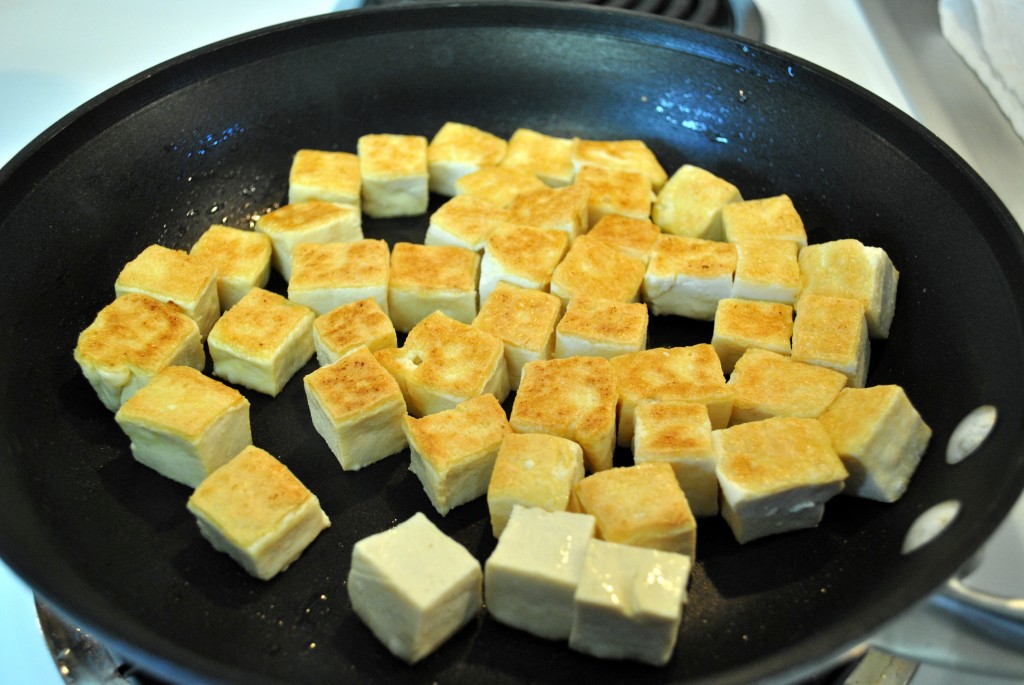 2) Switch to a non-acid reactive pan. Preheat 1 TBSP oil on medium high heat. Saute the garlic until aromatic. Add the onion and a pinch of salt (so that the onion sweats) and cook for a minute.
3) Add in the tomato chunks and stir for another minute or two.
4) Add tofu back into the pan, season with stir fry sauce, agave, salt, pepper, and lime juice. Cook for another minute or two adjusting taste as needed.
5) Add the Thai basil at the end of cooking until wilted (30 seconds or less). The heat from the ingredients should cause the basil to wilt to perfection.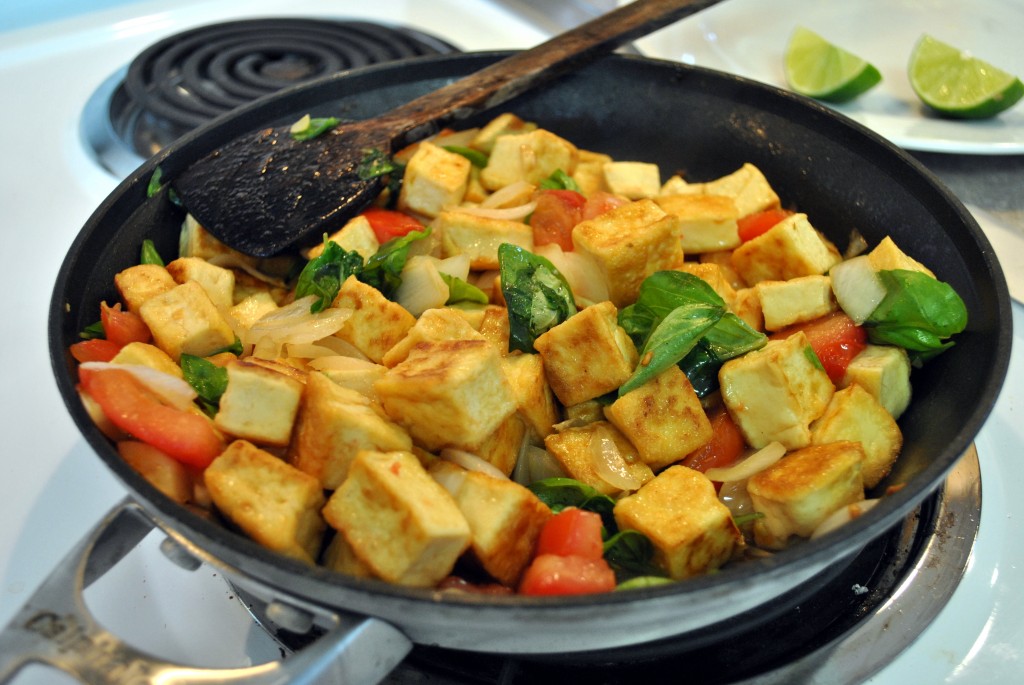 This is a great recipe for when you need a quick meal but are low on time. (just remember to set the tofu out the night before to dry). I also think this is one of those recipes you can't get wrong… it is that easy!
Yum!
xoxo
-P